Diagnostics lab team demonstrates how insourcing NGS makes sound financial sense and helps deliver cutting-edge, guideline-driven care at Sentara Health
For most molecular laboratories today, there inevitably comes a point in time when in-house testing, as opposed to outsourcing, should be considered – both for the financial health of an institution and the level of service it provides. This is especially true as NCCI guidelines increasingly recommend broad molecular profiling via next-generation sequencing (NGS) as the preferred method to identify cancer patients who may benefit from targeted therapies.
Such was the case 5 years ago at Sentara Healthcare in Virginia, where Dr. Tabetha Sundin, Scientific Director Molecular Diagnostics and Serology, heads the Molecular Diagnostics Laboratory that runs virology, genetics and oncology testing. At that time, her team was administering single-gene tests and outsourcing about a dozen NGS tests each week to local reference labs. However, she knew that while her plan to standardize all non-small cell lung cancer testing on NGS would greatly increase volume, it would also cause her lab's costs to skyrocket if they continued to rely on outsourcing. This was the tipping point that led Dr. Sundin to build a case for bringing NGS in-house.
We caught up with Dr. Sundin and asked her to share how she and her team built the business case for in-house NGS at Sentara Healthcare, how it has since benefited her organization and – more importantly – how it is helping deliver cutting-edge care.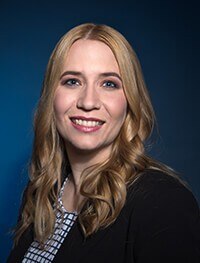 Tabetha Sundin, Scientific Director Molecular Diagnostics and Serology
Thermo Fisher Scientific (TFS): Sentara Healthcare was previously outsourcing its NGS testing. What were some of the drawbacks to that?
Tabetha Sundin (TS): Outsourcing testing created a lot of complexity, which slowed things down. Every physician chose their preferred laboratory which added to complexity in the pathology department. Because of the lack of standardization, it could take up to a few days to get samples out of pathology and, depending on the lab where the specimen was being sent, there was a high cost associated with testing. There was also up to a 10-working-day turnaround time, which was problematic. And lastly, we would get back reports that sometimes were in excess of 30 pages.
TFS: As you started the process of planning how to bring NGS in-house, did you initially have barriers in mind that you later discovered were only perceived barriers?
TS: The biggest barriers that we were concerned about were the need for bioinformatics expertise, long complex workflows and the cost of testing. We had this perception that NGS was going to be expensive, but that we really needed to do it because we saw the science is moving in that direction and we were going to get left behind if we didn't.
Honestly, when we met with different vendors, we realized that some of their workflows would have been prohibitive. But we were able to select the platform that did meet our needs for both the [ease of] workflow and the [low] cost per test. For bioinformatics support, we worked through that with all the vendors and found the vendor that had the best solution for us and that was able to assist us when we needed that support if it was not available locally. We also found that it is often actually more cost effective to perform NGS than to serially test single gene markers.
TFS: How important was fast turnaround time and automation to select the NGS platform to bring in-house?
TS: That was huge for us. Having automation really changes the game. If you have an automated platform, you can rely on the result coming out and your staff has walk-away time so they can go perform another assay. That was incredibly important in our decision.
TFS: How challenging was it to convince your administrators that in-house NGS was the next logical step for your lab?
TS: We had to prepare a business case for the project and present it to the board for approval. We based the business case on cost avoidance – even at the lower volumes of NGS-based tests that we were sending out. We also looked beyond oncology, such as other genetic testing that could be in-sourced with NGS or even Sanger sequencing. We assessed the volume of testing that was going out that could be performed on sequencing technology. We considered the cost to send out the testing to the reference laboratory and calculated the cost to perform the testing within our laboratory and did a cost differential between two.
TFS: What impact has the decision to bring NGS in-house had on profitability?
TS: We have shown a positive rate of return on retrospective review of the original business case. The administrators were not just looking to see that we followed the original business plan, but we had to prove that we met the financial goals. The increased growth [of testing volume] led to a big variance between what we expected to save and what we actually saved. In fact, we saved more than what we had in the business plan. We were able to deliver a nearly 38 percent return on investment over a five-year period, and that's based on a fully loaded cost, including the equipment, the validation, controls and employee costs.
TFS: What impact has in-house NGS had on patient care?
TS: I'm really excited about the patient care changes we've seen. First, I want to mention that the relationship between the oncologist and pathologist has never been better because we are providing a service to them very quickly. The NGS panel we are providing is what they want and they have a lot of feedback on the testing process. Oncologists are definitely happy with what we are doing internally, and they are showing that support by increasing the number of orders to us versus a reference lab.
Patients are now getting their results back in time for their first visit with their physician post-biopsy. So in two weeks, they are able to have all their biomarker results rather than being told, 'We're going to send off this testing and you're going to wait four-to-six weeks and then you'll come back to me and we can talk about your treatment plan.' Now, they are getting that plan upfront. That is a huge
TFS: What impact has the decision had on your institute's reputation?
TS: We do market that we are providing precision medicine here locally. Our patients are getting guideline-based treatment for non-small cell carcinoma because we are reflexing to next-generation sequencing plus PD-L1 regardless of [disease] stage. To get funding for this project, we had to demonstrate that the technology was cutting-edge. We can now say that met that bar within our institution, and externally we can say that we are providing the most up-to-date, guideline-based treatments for our patients.
TFS: Does having NGS in-house enable you to easily change or expand the menu of NGS assays you offer?
TS: The latest biomarkers that are on drug labels are covered by our assay, so we have not had to add an assay at this point. We will in the future. It's not future-proof, no molecular testing is We're moving toward hematology oncology testing and our current workflow would make it difficult for us to add new assays with our Monday through Friday sequencing schedule.
TFS: In your opinion, when is the right time for local hospitals to consider bringing NGS testing in-house?
TS: The first thing we look at is our top 20 send-out tests by volume or cost and target them for in-sourcing. If you are seeing a lot of NGS testing go out from your pathology department to a reference laboratory, or even if you're doing single-gene testing within your own lab but you believe patients will be better served by more comprehensive NGS testing and can't afford to send it out, I think that's a good reason to insource NGS.
If you've looked at your send-out testing list and see that you're paying a huge bill every month and determine that there are cost savings that would be achieved by insourcing testing, I think that is also a good reason to insource NGS. You should be able to get administrative support if you can show that you're going to save your institution money while providing more comprehensive, guideline-driven testing.
Yet another good reason to insource NGS would be if you find that sending testing to a reference laboratory is causing a delay in the ability of your providers to determine proper treatment.