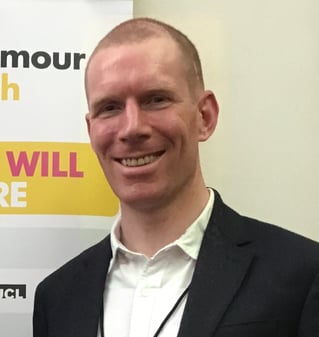 Philip Scard knew immediately and intimately that the June 15 news release from Thermo Fisher Scientific was potentially life-changing for people with his type of low-grade glioma (LGG), a slow growing brain tumor that inevitably turns malignant.
He read that the U.S. Food and Drug Administration (FDA) had granted the coveted Breakthrough Device Designation to Thermo Fisher Scientific's Oncomine Dx Precision Test, a next-generation sequencing (NGS) panel to identify LGG patients with one of two common tumor-causing genetic mutations. The FDA's Breakthrough Device Program is meant to provide manufacturers accelerated assessment and review of their medical devices, while preserving the agency's statutory standards.
The Oncomine Dx Precision Test, an investigational device, is being used to determine whether subjects' LGG is driven by the isocitrate dehydrogenase 1 or 2 (IDH1 and IDH2) genetic mutations and, therefore, eligible for enrollment in a clinical trial for Agios Pharmaceuticals' investigational drug, vorasidenib. The oral, brain-penetrant inhibitor of IDH1 and IDH2 mutations is being investigated to determine efficacy in slowing or stopping the progression of LGG.
"When you're dealing with a tumor that limits your life expectancy, waiting two weeks to know the genetic type and determine eligibility for an investigational treatment in a clinical trial causes massive anxiety," said Scard, a fundraiser and campaigner for the charity Brain Tumour Research in London. "So, the potential to have clinical trial enrollment determined in days is exciting."
Scard is all too familiar with LGG fueled by an IDH mutation and the critical need to discover new treatment options. IDH1 is the mutation driving the brain tumor that abruptly changed his life in April 2015. After reading the news release, Scard called Thermo Fisher's Medical Affairs team to learn all he could about the assay and the investigational vorasidenib. (Scard, a physicist, is employed by Thermo Fisher but on long-term sick leave as a result of the tumor.)
"Gene sequencing is a very powerful tool for rapid assessment of the tumor. Brain tumors often go undiagnosed before the disease is dangerously advanced..."
Oncomine Dx Precision Test is designed to run on Thermo Fisher's new Ion Torrent Genexus System, the first fully automated NGS platform that delivers comprehensive genomic profiling results in a single day. The system also has very low sample size requirements, which increase the success rate for results following a biopsy. If the investigational drug and Oncomine Dx Precision Test are approved by the FDA, the companion diagnostic will be used to determine eligibility for treatment. Having the ability to run a companion diagnostic test on site, rather than send it out to a reference lab, would further expedite treatment in the future.
Over time, Thermo Fisher plans to seek premarket approval (PMA) for the Oncomine Dx Precision Test as a companion diagnostic for multiple therapies, as well as approval for liquid biopsy tumor profiling in lung cancer and solid tissue tumor profiling in multiple cancer types. If approved by the FDA, the test will maximize detection of biomarkers designated as companion diagnostics and those which fall under the tumor profiling designation, including markers such as EGFR, ALK, KRAS, BRAF, ROS1, NTRK, RET, HER2 and others.
"Gene sequencing is a very powerful tool for rapid assessment of the tumor," Scard said. "Brain tumors often go undiagnosed before the disease is dangerously advanced, because for a long time the symptoms can be mild – headaches, worsened vision, blackouts. The largest proportion are diagnosed, as mine was, in the emergency room following epileptic seizures. Even after hearing the terrifying words 'you have a brain tumor,' the uncertainty only increases; there are over 100 different types, with enormously different outcomes."
An Unwanted Expertise
Scard, 38, thought he was perfectly healthy until the day he had his first violently convulsive seizure. Within 24 hours, an ER doctor showed him images from a CT scan, pointing out the egg-sized smudge of an LGG running through the motor cortex that controls all movement of the right side of his body.
"The tumor is not removable without severely disabling me," said Scard. "It is dispersed through functional brain tissue like the mold in blue cheese."
When seizures continued, he opted for surgery so that his doctors could remove a piece of the tumor for a biopsy and genetic testing. His surgeon knew immediately that his tumor was low-grade. But it took about three weeks to determine its full genetic profile, and, therefore, his prognosis.
"In an LGG tumor, different genetic mutations can hugely impact life expectancy. For the worst tumors, life expectancy is a matter of weeks," Scard said.
While awaiting the genetic sequencing of Scard's tumor, doctors conducted a test for the presence of an enzyme produced by the IDH1 mutation. More than 70 percent of brain tumors have an IDH mutation. Confirming the enzyme's presence allowed doctors to more specifically identify Scard's tumor type and hasten the creation of a treatment plan.
Molecular Cat and Mouse
On a grading scale of one to four, the tumor in Scard's brain is a two. Grade three is considered high-grade. The tumor impacts Scard's speech and cognitive functions. He continues to have violent seizures, which come without warning. As a result, he cannot work, drive, ride his bicycle or swim.
"Even though it is low-grade, it is life limiting," he said.
For many people with an LGG fueled by the IDH1 and IDH2 mutations, the tumor transforms into a high-grade, more aggressive tumor within five to 10 years, Scard said. Currently there is no drug to block that transformation. As a result, efforts to prolong Scard's life will be a constant molecular cat-and-mouse game using radiation and decades-old chemotherapy drugs to knock back the errant cells as they begin to change.
The drugs used to treat Scard's tumor don't specifically target the IDH mutation, which means healthy cells are also damaged.
"The treatment is sometimes worse than the problem," Scard said. "The drugs used to treat me date from the 1960s." In the course of a year's treatment he developed nerve damage and was hospitalized with sepsis. Transformation of the tumor has so far been averted, but treatment "slowed his brain" and left him constantly fatigued.
"You live the constant calculation between quality of life and length of life. The ideal is that both improve with treatment, but the brain is such a delicate organ," he said.
The weight of these life and death calculations is another reason he is excited about the clinical trial investigation of the Oncomine Dx Precision Test and its potential role as a companion diagnostic for vorasidenib. A highly selective filter of cells known as the blood-brain barrier prevents certain substances in the blood from passing into the brain, and has curtailed the development of many treatments for brain tumors.
"Cancer research is long and complicated," Scard said. "The Breakthrough Device Designation is especially positive because medical research takes so long and anything that can help people obtain the right treatment faster with any cancer is a life-critical thing."
Oncomine Dx Precision Test is for investigational use only. Not for use in diagnostic procedures.